My mark on internet
A data selfie
My mark on Internet, is an experiment by Sudev Kiyada on quantified self with an informal way of portraying it as a data selfie. It's an attempt to generate an exploratory visualization with the sole aim of providing a quick glance at my interests and my personality using some real world data. This is done by visualising my Youtube videos and Google Play applications history since 2018.
An excerpt from MIT
"They are subjective renderings that mediate between the artist's vision, the subject's self-presentation and the audience's interest. Designed to evocatively depict an individual, a data portrait can be a decorative object or be used as an avatar, one's information body for an online space. Data portraits raise questions about privacy, control, aesthetics and social cognition. These questions become increasingly important as more of our interactions occur online, where we exist as data not bodies."
I wanted to create something that resonates with me and my background of being a computer engineer and an aspiring information designer. And hence, I tried to portray own data as pixels and tried to depict my presence on the larger internet. The overall piece also reflects my interests in music by showing popular and frequently occuring tags in the videos watched on Youtube platform. The attempt was to build it in style much closer to my favourite aesthetic genres like Neon Noir, Cyberpunk, Outrun and Synthwave.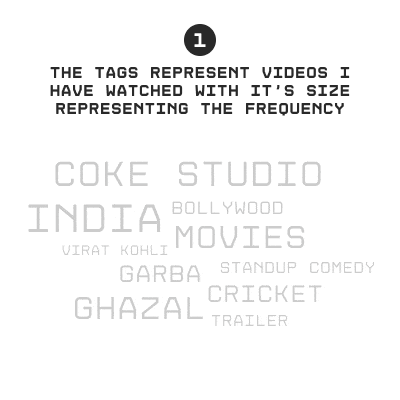 The final visualizaiton is generated using quad tree structure and word cloud of data about 1349 unique Google Play applications installed and 36K total videos watched on Youtube. The visualization is rendered using PIXI.js, a webGL platform and charts are generated on the fly using D3.js. More information about process and tools is available here.